SCENTED RHODODENDRONS
FRIDAY 11TH MAY 2012
Lecture by Charles Williams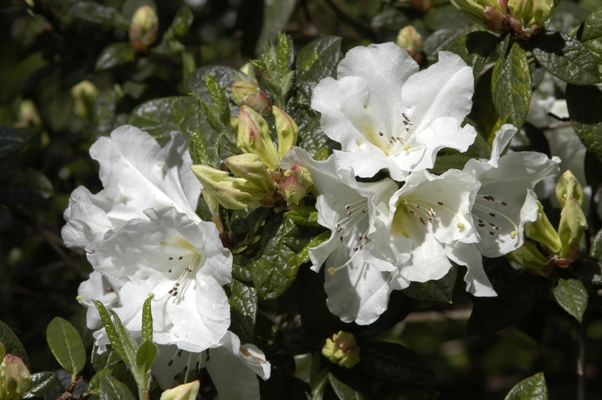 Suitable for
Complete Beginners, Ideal for All
, with no prior experience necessary, however all garden lovers would benefit from this interesting lecture.
This lecture will cover the extraordinary fragrance of the group of late flowering 'smellie' Rhododendrons in all their glory. Hardiness (should they be kept in a conservatory or outdoors) will be a key factor, as will be propagation, hybridisation and care of this very special group of rhododendrons.
We will detail:
The rare and very tender Rh. sino nuttallii
The Caerhays bred Rh. 'Bert's Own' (pictured)
The principal scented species Rh. crassum, polyandrum, johnstoneanum, lindleyi, formosum and their hybrids ('Fragrantissimum','Lady Alice Fitzwilliam', 'Countess of Haddington' and more)
The tour will ignore all the normal routes around the garden, we will be following our noses to seek out and find these 'smellie' Rhododendrons.
This lecture takes place around the gardens so some of areas are not suitable for disabled access, but most of the tour is accessible.
You will need to bring wet weather clothes and boots.
You can park in the main Caerhays car park at the Castle itself, rather than in the in public car park at Porthluney Beach.
Coffee & Biscuits – 9.30
Lecture starts – 10am
Finish approx. – 1pm
Lunch is not included in the price but meals are available in the licensed tea rooms within the castle.

Ticket Price:
RHS Member - £16.00
Non-member - £20.00
---
All tickets should be booked in advance. For tickets to RHS events at Caerhays only please book in the following ways:-
By CREDIT CARD OR DEBIT CARD: By telephoning 01872 501310 (weekdays 9am - 5pm)
By POST: Lecture Reservations, Caerhays Estate, Gorran, St Austell, PL26 6LY, enclosing a cheque payable to Caerhays Estate, a membership number (where relevant) and daytime telephone number. State the title of the event and how many tickets you require.

Please note: for all the events, tickets will arrive within 10 days of receipt of booking. In the unlikely event that they fail to arrive, or you have a query about tickets that you have received, call Enquiries on 01872 501310 (weekdays 9am to 5pm).