Rhododendron seed collected from the wild in China by the great plant explorers Ernest Wilson and George Forrest first started arriving back at Caerhays from 1905. Forrest's seventh and last seed hunting expedition which ended with his death in Yunnan Province was in 1932. During that period seed from literally hundreds of new rhododendron species then unknown in Western Europe was carefully propagated and grown on before being planted out, often in large clumps, in Caerhays' expanding new woodland garden. Over 60 gardeners were employed in this task before the First World War to tend and manage this exciting new collection of rhododendrons and many other shrubs.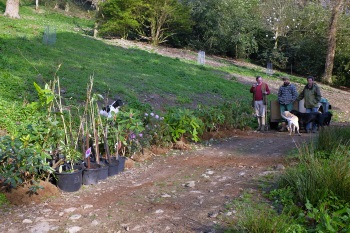 By 1910 J C Williams, owner of Caerhays, who was by then a major sponsor of Forrest's expeditions was starting two decades of cross pollination work using these new rhododendron species to produce new named hybrids many of which are still widely grown today in British gardens. This hybridisation work has continued to the present day at Caerhays by J C Williams' successors.
By the mid-1960s many of the original wild collected rhododendron species were mature and in their prime. Since then Caerhays has discovered that the life span of a taller growing rhododendron species is a maximum of 60-80 years with many smaller growing species dying of old age in a much shorter timescale. Some species could readily be kept going into the next generations by propagating cuttings; a few others responded well to being cut back hard to encourage rejuvenation, but the majority of the larger growing and large leafed species cannot be propagated by cuttings and die if cut back.
Read the complete article about Rhododendrons in Old Park Wood.....