Last order date for guaranteed Christmas delivery is Thursday 19th December, and Click/Collect is Friday 19th December, with collection available until the 23rd.
April Monthly Inspiration
There is really so much to see in the woodland garden this month that it is a job to know where to start other than to pick out a few perhaps less well known plants and encourage you to take a look.
The evergreen magnolias which used to be called Michelias (and still are in our catalogue lists) produce perhaps the most exquisite scent in the spring garden. At Burncoose you can smell them at least a hundred yards away on a still warm day. This year they are early after the very mild winter.
We would particularly recommend Michelia 'Fairy White' and 'Fairy Cream'. These New Zealand hybrids have only recently been introduced to the UK. Unlike many other Michelias they will flower away even in a 3L pot. Two years after planting we have plants in the garden with over 50 flowers.
If you are interested in Michelias M. laevifolia has the most superb velvety coverings to the buds and creamy white flowers in profusion in April. Michelia x foggii 'Allspice' is one of the last to flower here in late April and has a gorgeous scent as its name implies.
Yellow flowered magnolias also come into their own in April. Magnolia 'Elizabeth' has been grown in the UK since 1976. Magnolia 'Yellow Bird' and 'Yellow Fever' first started to attract attention as the best yellows around 20 years ago. Today we firmly believe Magnolia 'Daphne' and Magnolia 'Lois' (our banner image for this month) are the best of the latest introductions. The yellow flowers are clear and pure without very much fading or a great deal less than their predecessors. Burncoose grows over 20 different varieties of yellow magnolia which flower just before the leaves emerge or as the leaves emerge in a warm and wet period. If you want to extend the magnolia flowering season in your garden then these are for you.
Judas trees or Cercis are often overlooked as well as startling small flowering trees with masses of purple-pink flowers along the stems and onto the twigs. Cercis canadensis 'Forest Pansy' also has the darkest purple foliage through the summer and makes a superb feature plant.1003
News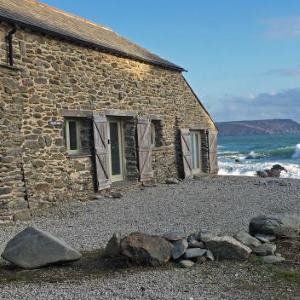 Things have a new look at Caerhays - we have a new website for the Castle & gardens this year, and also we have taken the letting of our holiday cottages in house so if you book a holiday or short stay with us you will be dealing direct, checkout our 12 lovely properties at www.caerhaysholidays.co.uk. Our properties have been converted or renovated to a high standard and are perfect for a quiet get-away as a couple or large family get-together. Some of the properties are dog friendly.
This is the Fish Sheds, it is right on the beach front at West Portholland, and can sleep 6. Perfect for bracing spring break or summer holiday.
National Garden Gift Tokens, if you wish to use these in part or full payment for any order, just send the tokens to us and we can add them to your account so you can use them in the checkout for payment.
Upcoming Events In April & May